Last week WordPress began displaying a PHP Update Required warning in the administrative dashboards of all websites running WordPress v5.1+ that have their hosting accounts configured to use PHP 5.6 or lower.
WordPress plans to increase the minimum version of PHP required to run upcoming versions of the software to PHP 7 in the near future. At this time no date or specific version of WordPress has been announced for when this requirement change will occur.
WordPress have noted that nearly half of all WordPress websites in the world have not upgraded to PHP 7 yet, so they are treating this warning as advanced notice to encourage users to upgrade their PHP version before they make it a requirement. Early developer discussions have noted that this requirement change could occur as early as December 2019, but ultimately the success of this warning campaign will dictate when they implement this requirement change.
How Does This Affect Me?
All customer websites will continue to function on their current WordPress versions.
This requirement change will only affect one's ability to upgrade to future versions of WordPress if your hosting account is configured to use PHP 5.6 or lower.
While we have offered the ability for our customers to change their PHP version at any time through their cPanel control panel for many years, the vast majority of customers are currently using PHP 5.6.
If you wish to upgrade to new versions of WordPress in the future, manually changing your PHP version from your cPanel control panel will be required to meet WordPress' future requirements. PHP 7.3 is the latest version of PHP and the version that WordPress recommends users upgrade to.
If you wish to keep your website on your current WordPress version or only install minor version upgrades and security fixes, changing your PHP version is not required. While PHP 5.6 is discontinued and no longer supported by its developers, we offer special, hardened versions of PHP that continue to receive security fixes by our operating system vendor.
Of course, relying on outdated software is never advised, so keeping up to date with your WordPress and PHP versions is highly recommended.
Considerations Before Changing PHP Versions
PHP 7 is a major improvement over PHP 5 that offers dramatic performance gains, however code written for PHP 5 is not always compatible with PHP 7 and code updates are often required to meet PHP 7 compatibility.
The good news is that PHP 7 has been available for over 3 years so most web applications, plugins, and themes have been updated to be compatible with the latest PHP versions.
However if you have not updated your website in many years, you may need to update WordPress and your themes and plugins prior to changing your PHP version to ensure they have been updated for PHP 7 compatibility.
When changing your PHP version through your cPanel control panel, it will change the PHP version used across your entire account, so if you host multiple websites or applications from your hosting account, all will need to be compatible with PHP 7 or you could encounter issues.
Don't fret though, if you encounter any problems after changing to PHP 7, you can simply change back to PHP 5.6 to get things working again.
How To Change Your PHP Version
Changing your PHP version is easy! Simply log into your cPanel control panel and click on the "Select PHP Version" icon located under the Software heading.
On the next page click on the dropdown list and select 7.3 or your desired PHP version. Then click on "Set as current" to change your PHP version.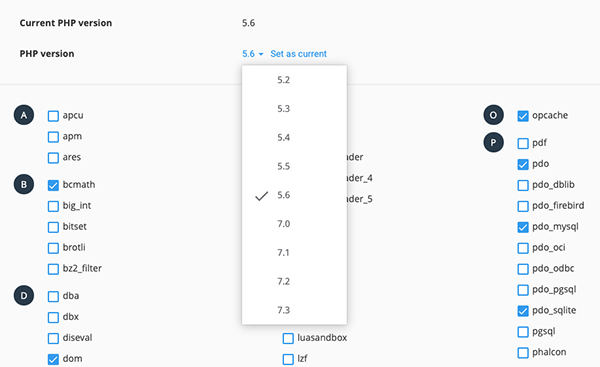 Lastly we recommend clicking on the "Result to default" button after changing your PHP version to select all of our default and recommended PHP modules.
If you previously adjusted any PHP options for your last PHP version, you can apply them again by clicking on the "Switch to PHP options" button and making any changes you require. This step is only required if you previously made changes through this interface.
Now that you have changed your PHP version in cPanel, any PHP processes previously running within your account must exit before your version change will be applied. Please allow up to 15 minutes for your PHP version change to take affect.
Need Help?
Did we lose you at PHP? Don't worry, we're here to help!
Simply contact our Support department and we'll be happy to change your PHP version for you.
Comments